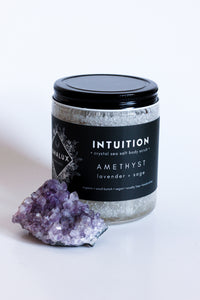 INTUITION // Amethyst Crystal Body Scrub
Regular price
Sale price
$30.00
Tax included.
---
Purify and nourish your skin with the power of sea salt and amethyst. This crystal scrub is blended with lavender + sage oils to deliver a full-body ritual to your self-care routine. Ground, purify, and calm the mind as you remove old layers of skin and nourish the new.  
scent: floral, herbaceous, calming

BENEFITS
◇  SEA SALT - removes dry + dead skin, contains beneficial minerals for skin nourishment, detoxifies skin
◇  AMETHYST - balances, calms, heightens intuition, aids in meditation, dispels negativity, encourages positive transformation
◇  OILS - our blend of all-natural, cold-pressed oils will leave your skin feeling renewed + hydrated while the lavender + sage scent helps to calm, relax, balance, and aid in meditation
THE RITUAL  
Scoop a handful of scrub and apply to your skin in a circular motion. Continue to scrub as you rinse off thoroughly.
PRECAUTIONS - Shower/tub may become slippery after use. Be sure to rinse area thoroughly to avoid accidental injury. 
INFO
Scrub is safe for use on both body and face
STORAGE - Keep jar in a cool, dry spot away from direct sunlight. We take pride in using only the best all-natural ingredients without the use of preservatives. For best results, use within six months. Please reuse or recycle your jar once emptied. 
Scrub may separate or harden over time. If the scrub hardens, run jar under hot water to soften. If the scrub separates, stir until recombined.
REFILLS - To stock up on more, please visit the Product Refill page.
8oz / 227g reusable glass jar
This information has not been evaluated by the Food and Drug Administration. This information is not intended to diagnose, treat, cure, or prevent any disease.
INGREDIENTS
Dead Sea salt, finely ground amethyst, Prunus dulcis (sweet almond) oil, Vitis vinifera (grapeseed) oil, Simmondsia chinensis (jojoba) oil, vitamin E oil, a special blend of essential oils, love + intention