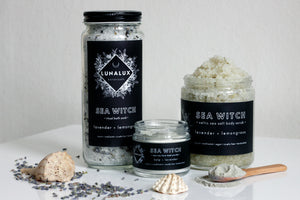 SEA WITCH // The Collection Set
Regular price
$52.00
Sale price
$50.00
Tax included.
---
Take your self-care routine to the seaside with our complete Sea Witch Collection Set!

Each set comes with:
     ◇  1x SEA WITCH // Sea Clay Botanical Face Mask

     ◇  1x SEA WITCH // Celtic Sea Salt Body Scrub
     ◇  1x SEA WITCH // Lavender + Lemongrass Bath Soak
     ◇  1x wooden spoon for mask mixing and preparation
THE RITUAL
FACE MASK - Combine 1-2 wooden spoonfuls of the mask powder with equal parts water (or liquid of your choice) and mix until paste forms to the desired consistency. Apply to clean face and let sit for 10 minutes or until dry. Rinse off the mask and moisturize as usual. This mask can be used 2-3x per week or can be used daily as an acne spot treatment.
SUGAR SCRUB - Scoop a handful of scrub and apply to your skin in a circular motion. Continue to scrub as you rinse off thoroughly.
BATH SOAK - Shake jar prior to use. Pour the desired amount into bath water just before entering. We recommend using one-third to one-half of a jar per bath. Alternatively, you can place the desired amount into a muslin bag and place under the running bath water as the tub fills. Bathe for at least 20-30 minutes to reap the full soaking benefits.
INFO
Scrub is safe for use on both body and face
STORAGE - Keep jars in a cool, dry spot away from direct sunlight. We take pride in using only the best all-natural ingredients without the use of preservatives. For best results, use within six months. Please reuse or recycle your jars once emptied.
Scrub may separate or harden over time. If the scrub hardens, run jar under hot water to soften. If the scrub separates, stir until recombined. 
REFILLS - To stock up on more, please visit the Product Refill page.
Face Mask - 2oz / 56g reusable glass jar
Sugar Scrub - 8oz / 227g reusable glass jar
Bath Soak - 12oz / 340g reusable glass jar
This information has not been evaluated by the Food and Drug Administration. This information is not intended to diagnose, treat, cure, or prevent any disease. 
INGREDIENTS
SEA WITCH Sea Clay Botanical Face Mask - French green clay, Icelandic Ascophyllum nodosum (kelp) powder, Lavandula x intermedia (lavender) powder, special blend of essential oils, love + intention
SEA WITCH Celtic Sea Salt Body Scrub - Celtic Sea salt, dead Sea salt,  Lavandula angustifolia (lavender) infused Prunus dulcis (sweet almond) oil, Rosmarinus officinalis (rosemary) infused Prunus dulcis (sweet almond) oil, Vitis vinifera (grapeseed) oil, Simmondsia chinensis (jojoba) oil, vitamin E oil, Rosmarinus officinalis (rosemary) leaves, special blend of essential oils, love + intention
SEA WITCH Lavender + Lemongrass Bath Soak - Celtic Sea salt, Dead Sea salt, epsom salt, eendritic salt, Fucus vesiculosus (bladderwack), Lavandula angustifolia (lavender) buds, special blend of essential oils, love + intention